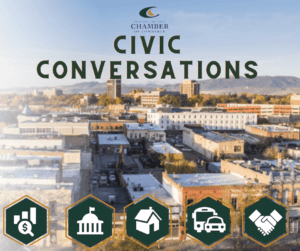 Whiskey is for drinking, water is for fightin'! But over a mug of beer, we can have a CIVIC Conversation about how we move water around our state and region without tearing up the place.
Agenda
4:30 p.m. – Arrive, buy a beverage, get settled (feel free to bring snacks if you would like!)
5:00 p.m. – Welcome by the Chamber, 101 on the evening topic
5:05 p.m. – Small group conversations with conversation starters offered by the Chamber
5:45 p.m. – Group share back and debrief
6:00 p.m. – Adjourn
Please RSVP so we can plan for the conversation.